200+ Doctors & Registered Nurses

Over 165 clinics globally

Complimentary consultations

Skin tailored to you
Get an instant glow
Our tailored Microdermabrasion treatments gently exfoliates and removes dead skin cells, stimulating blood flow and leaving your skin refreshed and glowing.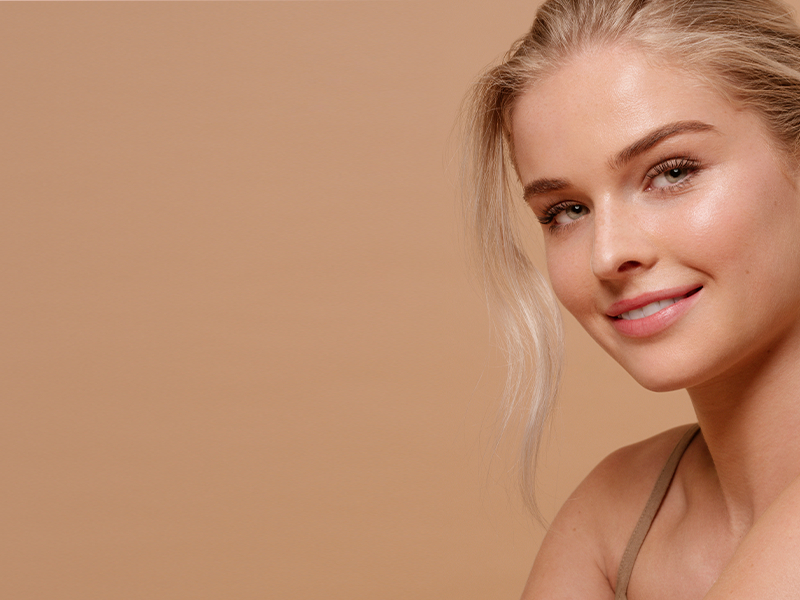 About Microdermabrasion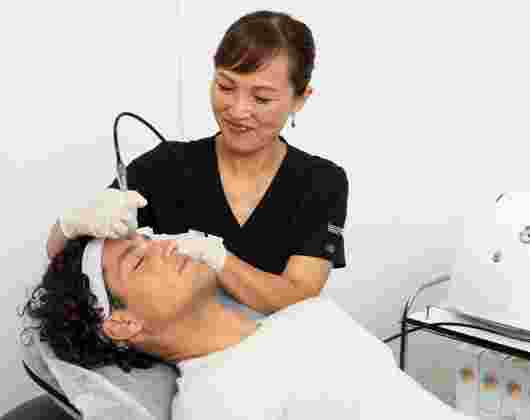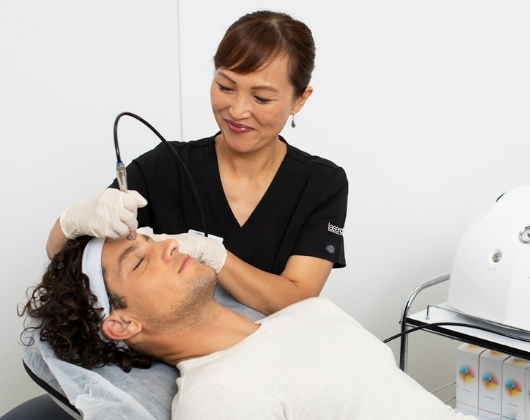 All skin requires conditioning treatments to encourage optimal cell renewal. Our 5-Step Custom Microdermabrasion is our entry-level professional skin treatment that provides gentle exfoliation to remove dead skin cells and encourage cell turnover. We tailor each step to target your individual skin concerns. At your complimentary consultation, your highly-skilled Skin Therapist will create a treatment plan and advise what is best suited to achieving your skin goals.
Our 5-Step Custom Microdermabrasion targets the epidermis which is made up of dead skin cells and is the layer of skin closest to the surface. By buffing away the uppermost layer, we break down the barrier that often prevents your current skincare products from properly absorbing into the lower dermis.
The skin's upper layer is also home to blemishes, fine lines, and wrinkles so our Microdermabrasion works to rejuvenate and alleviate the visible signs of congestion. With no down-time, Microdermabrasion is a perfect lunch-time treatment, leaving your skin looking and feeling its best.
Preparation and aftercare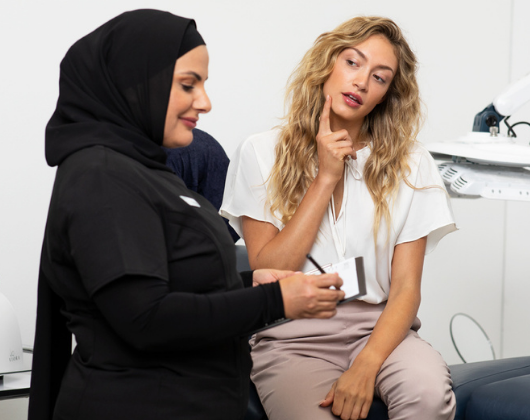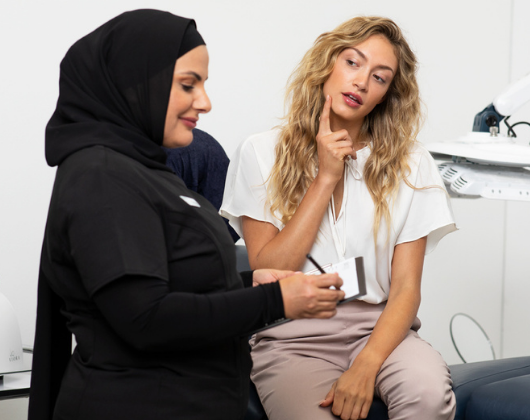 2 weeks prior to treatment:
• No Cosmetic Injectable treatments
• Avoid excess direct sun exposure
• No waxing or Laser Hair Removal/IPL treatments on the face
1 week prior to treatment:
• No depilatory use on face
3 days prior to treatment:
• Stop using active ingredients on the skin
• No Chemical Peel treatments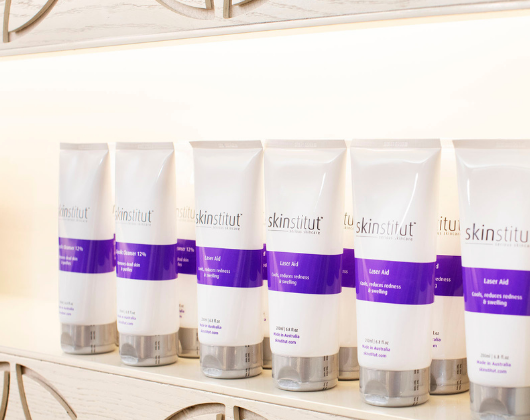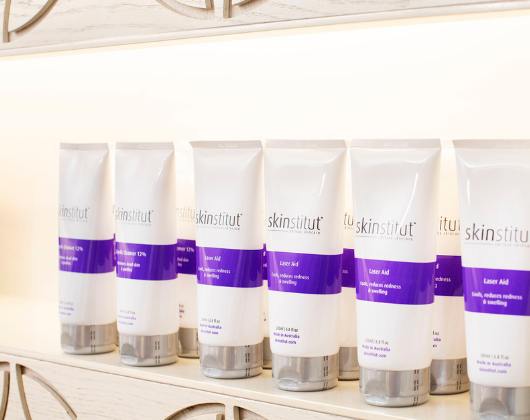 2 weeks post-treatment:
• No Cosmetic Injectable treatments
• No waxing or Laser Hair Removal/IPL treatments on the face


1-week post-treatment:
• No depilatory use on the face

Microdermabrasion treatments are extremely safe and effective. Any redness, temporary flaking, or mild discolouration will disappear after your treatment and can be covered with a light layer of mineral makeup. Avoid exfoliating the treatment area for at least 5 days after the treatment, don't pull or pick any loose skin.
To enhance your results, use the skinstitut Gentle Cleanser to soften, purify and hydrate your skin. Age Defence SPF 50+ sunscreen to be applied as aftercare for all Skin Treatments.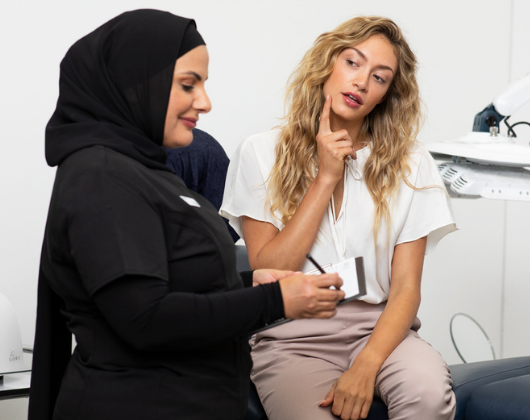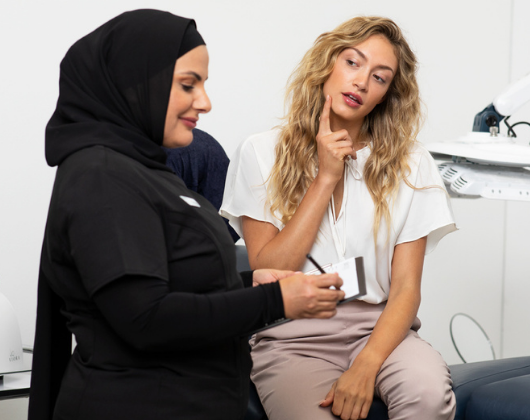 For optimum results, we recommend a minimum of 6 treatments at fortnightly or monthly intervals. Maintenance treatments will be required to upkeep results.
Top Tip:
Team our Microdermabrasion with any of our professional Skin Treatments.
Microdermabrasion Pricing


Safety & Technology
Using advanced technology and high-performance cosmeceutical skincare products our team highly-skilled team of Therapists is experienced in delivering best-in-class results.
Experienced Team
Our highly-skilled and experienced team of Therapists are trained in the latest technology and operate the safest machinery.
Real Results
Whatever your skin concern, we have the experience, knowledge, and professional Skin Treatments to deliver the best results tailored to your skin goals.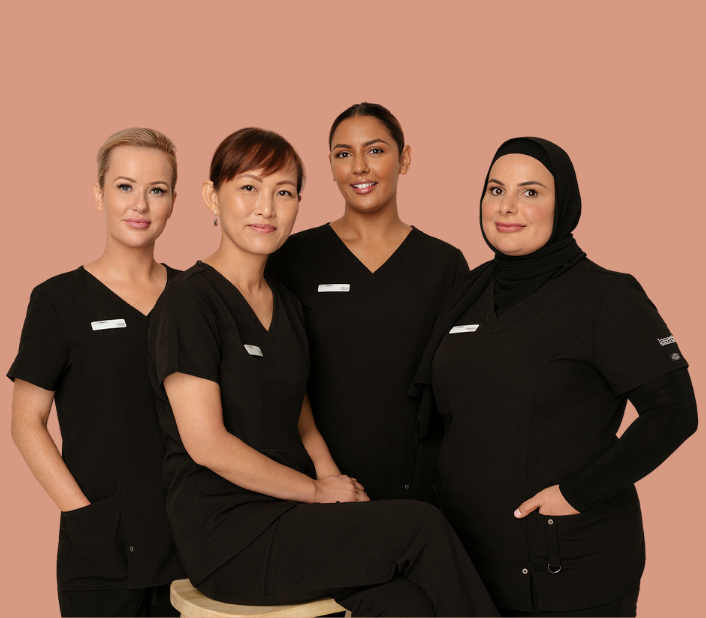 Book in a complimentary consultation
Get that glow. Professional Skin Treatments tailored to you.
Our highly-trained team of Therapists can help identify your concerns and tailor a treatment plan based on your skin goals.
BOOK NOW
What our customers are saying
"...Would recommend it to anyone out there that is looking for some guidance and simple steps to better their regimes to get the best out of the amazing part of our body that is skin!"
Carla
"I am already noticing a big difference in my skin and am excited to see the end results."
K.G.
"I've had Microdermabrasion and LED Light Therapy and my skin loves it. It looks more plumped and it's glowing. I look forward to my next visit. Thank you for taking care of my skin."
Mrs. Santos
"I've had marked results & the dark sunspots on my face that were causing great embarrassment have gently been removed and I've had no other issues with any of the treatments at all. I absolutely recommend giving Laser Clinics a go!"
Josie Schipper
"Very happy with my results. After only one visit, my skin is already looking and feeling more plump and healthy. The service I received was also very good; the girls made me feel super comfortable and cared for. Would definitely go back again."
Olivia Watson
"As always a lovely experience and my skin has never looked better. Love this clinic!"
Cindy Grech
"My skin has never felt better with the skin peel accelerator + LED light. I have far less breakouts and my skin is smoother than ever. "
Jess
Frequently Asked Questions
What will my skin look like when I walk out of the clinic - will I need time off work?

Each person's skin is different – so your response will vary, but the majority of our skin treatments require no downtime. Your Skin Therapist will take you through a post-treatment care regime that will fast-track your results.

Why do I need to use aftercare products?

The importance of preparation and aftercare is to ensure that you receive maximum results with minimal side effects to the treatments we offer. This includes our skin and laser treatments and can even be applied to cosmetic injections. For example, our 5 a-day home care pack has everything you need for before and after your treatments. We'll tailor the 5 Skinsitut products based on your skin type and the treatments you opt for. Skinstitut is founded on the belief that serious, high- end skincare should be accessible to everyone. For this reason, we offer the most cost-effective, cosmedical range in-clinic using top-quality, potent, cutting-edge ingredients that will maximise and prolong treatment results whilst helping heal the skin post-treatment.

How long will it take for me to see a result after my treatments?

Each procedure is different – our less invasive treatments (such as Microdermabrasion and superficial Cosmedical Grade Peels) give more immediate results, and our more invasive treatments (such as Fractional RF Skin Needling and deeper Cosmedical Grade Peels) may take up to a month to see full results. These treatments, however, have more lasting impacts than our less invasive treatments. At your complimentary skin consultation, your Skin Therapist will advise on a tailored treatment plan.