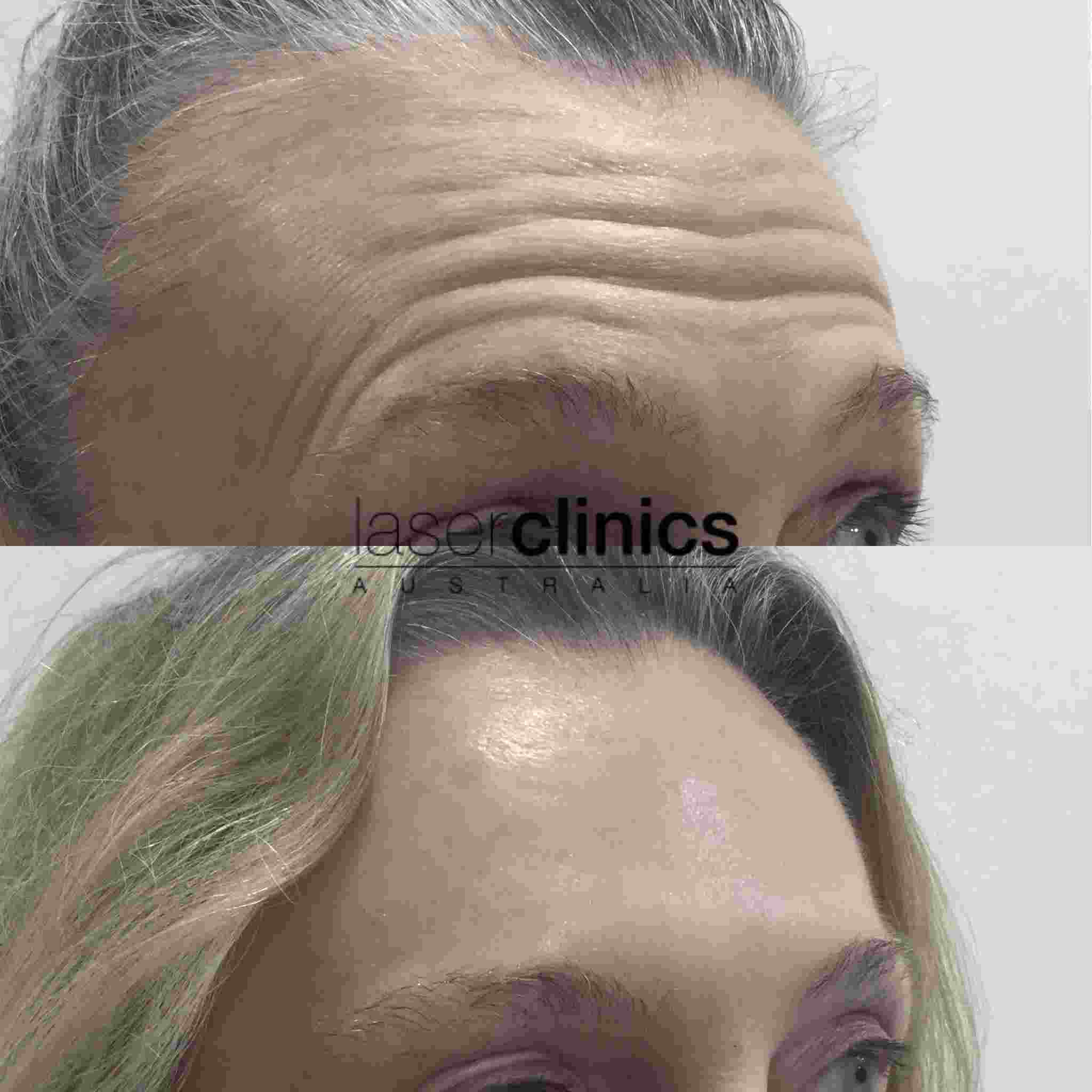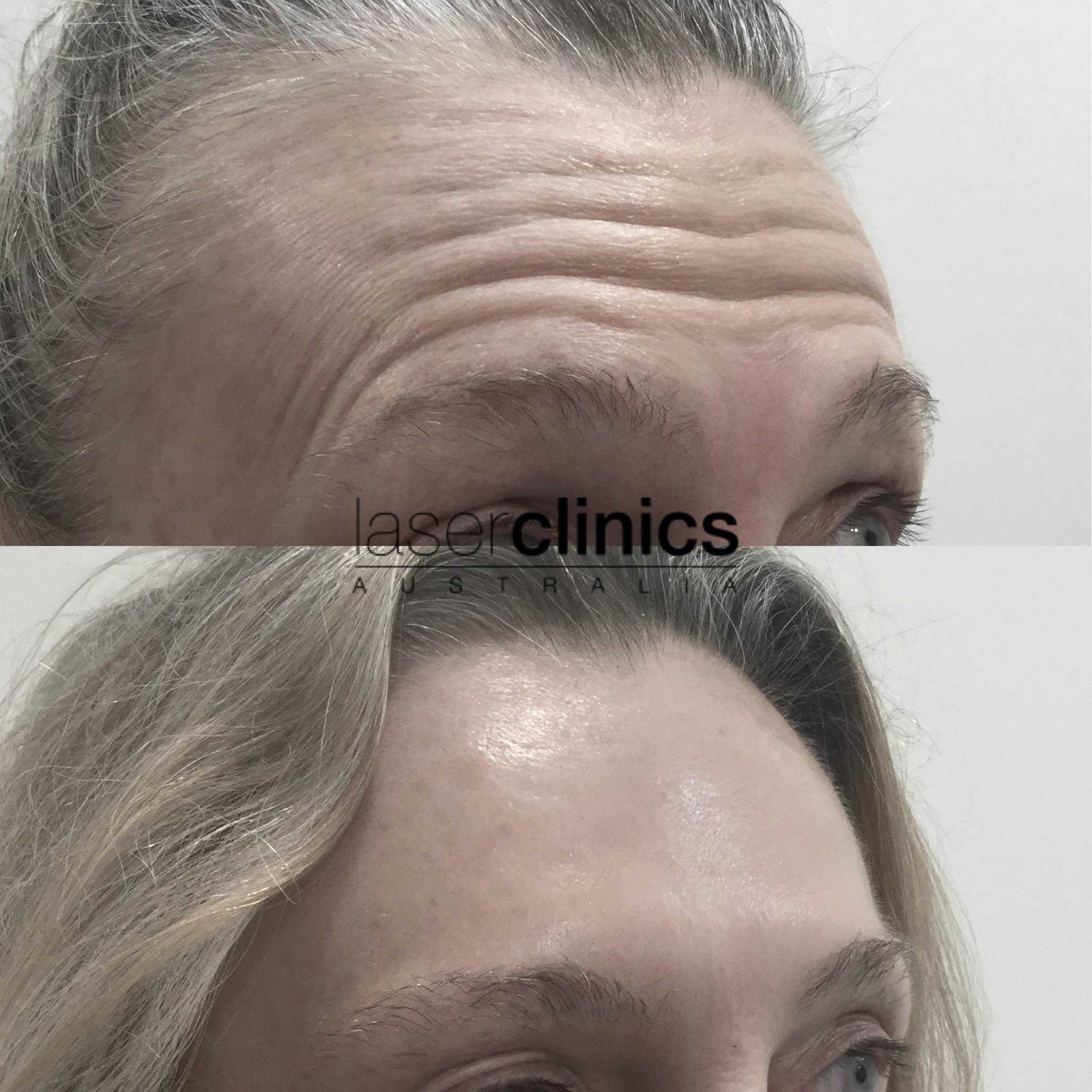 How Anti-wrinkle Injections Work
Our face uses over 40 different muscles and it's the repeated movement and contraction of those facial muscles when we smile, laugh, squint, and frown that, over time, results in visible—and often unwanted— lines, folds, and wrinkles in the skin.
Anti-wrinkle injections are one of the most popular anti-ageing treatments we offer at Laser Clinics Australia. As far as anti-ageing treatments go, they're targeted and effective—with minimal downtime.
A Purified Protein with Superpowers
Anti-wrinkle injections employ a purified protein to relax specific muscles so they're unable to contract, preventing them from creasing the skin. When injected into targeted areas in small doses, this purified protein has a signal-blocking effect which stops the nerves from communicating with the muscle, pausing that repetitive movement, relaxing that muscle, and in turn, softening those visible lines on the face.
Not only can they significantly improve the signs of premature ageing but anti-wrinkle injections also play an important preventative role. If a muscle can't contract then it can't make an expression, like a frown or an eye squint, stalling future lines from forming earlier than they might naturally.
Anti-wrinkle injections are a particularly targeted treatment; the protein we use can only influence the movement of the muscles beneath the lines where it's been injected so the surrounding muscles of the face move naturally as normal.
The overall effect: fresh and natural, smooth-looking skin.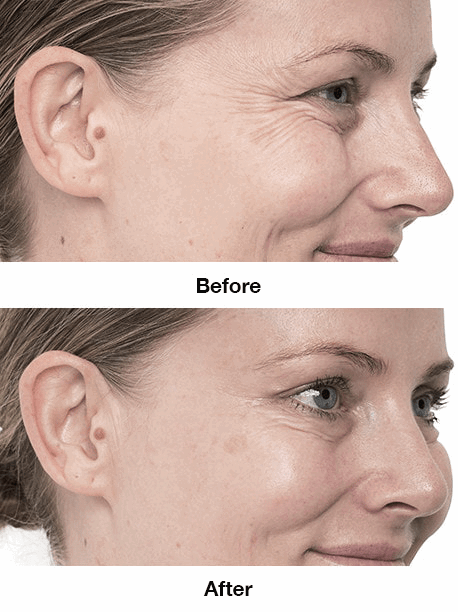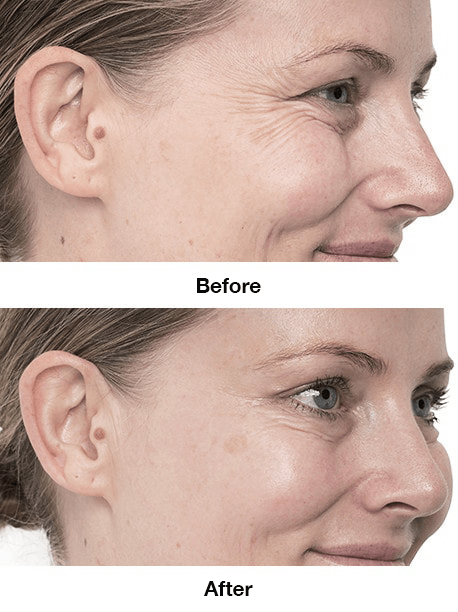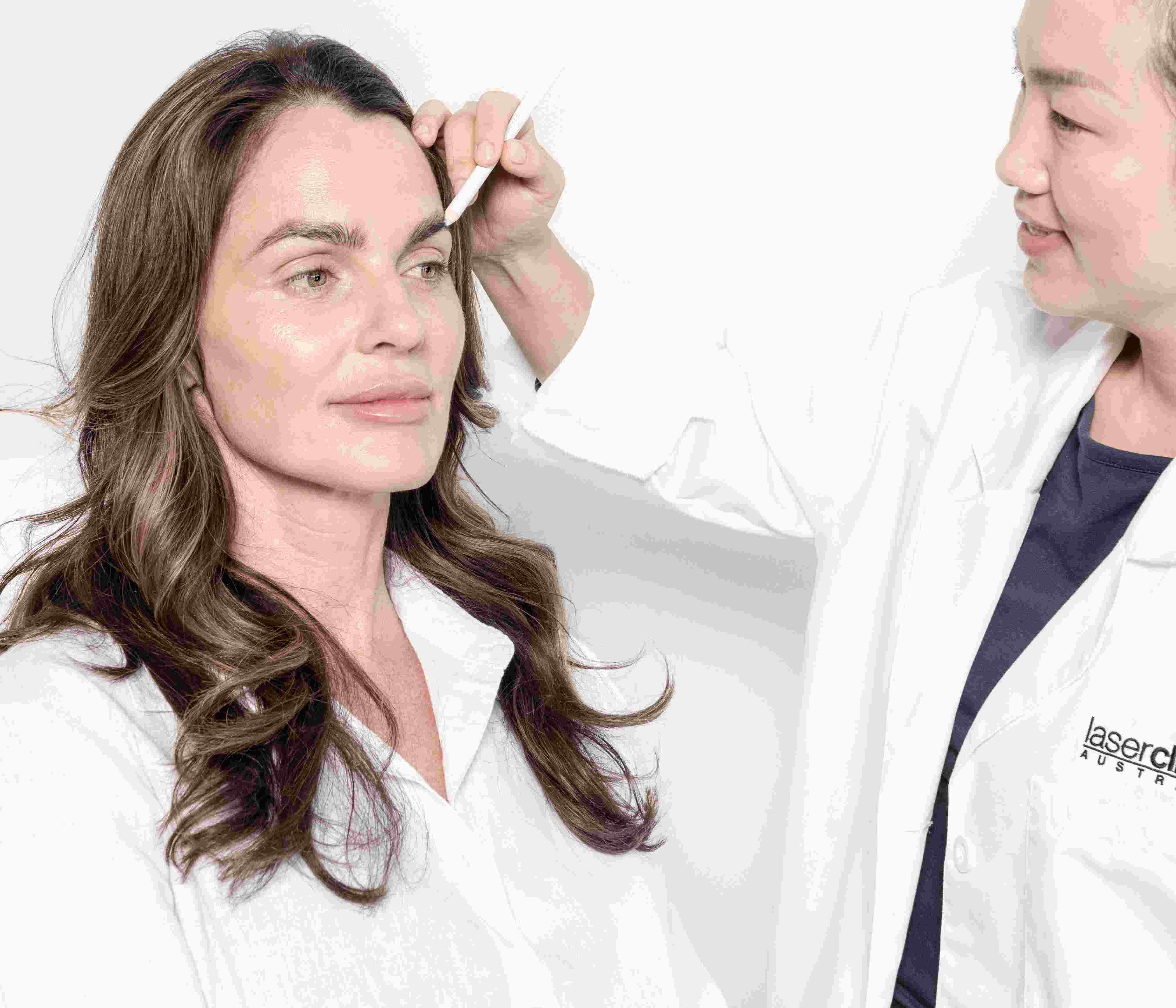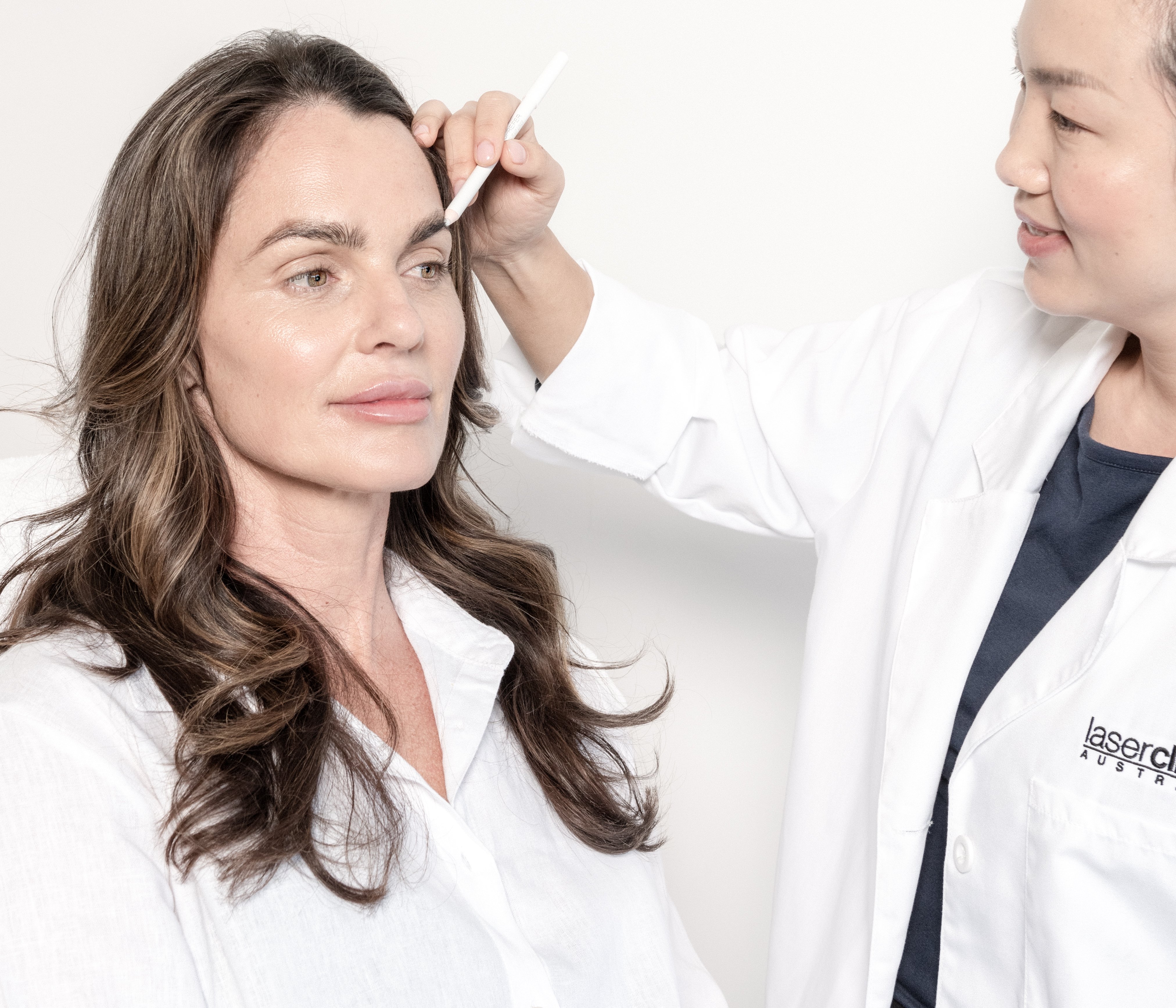 Are Anti-wrinkle Injections Right for You?
As some faces are more expressive than others, lines aren't purely a sign of biological ageing, nor are they exclusive to certain age groups. However, at Laser Clinics Australia we don't treat anyone under 18, women who are pregnant or breastfeeding, or those suffering from certain autoimmune illnesses.
It's important to note that not all lines can be improved with anti-wrinkle injections, particularly those caused by reduced skin elasticity, and tissue volume loss. It's for these reasons that we recommend an in-clinic consultation with one of our highly skilled doctors or registered nurses to ensure we can prescribe the most satisfactory and effective treatment for you.
Wrinkle Treatment Areas
Click on any of the areas to learn more.
Brow Lift

Chin

Crow's Feet

Forehead Lines

Frown Lines

Jaw Re-Shaping

Bunny Lines

Vertical Lip Lines

Click on any of the areas to learn more.
Brow Lift
Your brows can sometimes appear uneven or asymmetrical. Muscle relaxing anti-wrinkle injections can increase facial symmetry and in certain cases provide a brow lift.
Chin
As we age our chin muscle pulls upward forming a line between the bottom lip and chin in an arch. This muscle can be relaxed using anti-wrinkle injections taking pressure off the chin and causing the line to soften.
See Before and After
See Before and After
Forehead Lines
Forehead lines are horizontal lines that form through the repetitive use of your eyebrows. Over time, these dynamic wrinkles form permanent lines.
See Before and After
See Before and After
Frown Lines
Frown lines are the vertical lines between your eyes and are also known as your 'glabella lines'. Repeated muscle movement and contraction leads to permanent static wrinkles.
See Before and After
See Before and After
Jaw Re-Shaping
Facial re-shaping is a treatment used on the lower face muscle known as the 'masseter', or the muscle of the jaw. The masseter muscle is used for chewing and if overactive, can cause teeth grinding. This muscle can cause the appearance of a square jaw, and whilst this may be appealing to the male face, many woman are seeking a softer more feminine look. With the use of anti-wrinkle treatments we can reduce the bulk of this muscle and in turn reduce the appearance of the a square jaw, giving the face a more oval appearance. This treatment may also reduce the severity of teeth grinding.
Bunny Lines
Also known as nose lines, can appear from the constant scrunching of the nose muscle. They appear as horizontal wrinkles which form across the ridge of the nose.
See Before and After
See Before and After
Vertical Lip Lines
Vertical lip lines appear on the top and bottom lip. They can be defined lines that become apparent with any movement of the mouth.