Sometimes no matter how hard we train at the gym and sacrifice on our favourite foods – stubborn fat just doesn't jog on (excuse the pun)! Everyone, and we can't stress this enough, everyone, will experience stubborn fat storage no matter how fit and healthy you are. So if you have a pocket that's bothering you, there is a non-invasive treatment available at Laser Clinics Australia that permanently destroys fat cells.
What is CoolSculpting®?
Let us introduce you to the world's number one fat reduction technology - CoolSculpting®. This fat freezing treatment uses patented cooling technology to eliminate fat cells, without surgery, and little to no downtime.
How does CoolSculpting® work?
During the CoolSculpting® treatment fat cells are frozen. Those cells that have been treated are gradually destroyed and leave the body through the body's natural elimination process.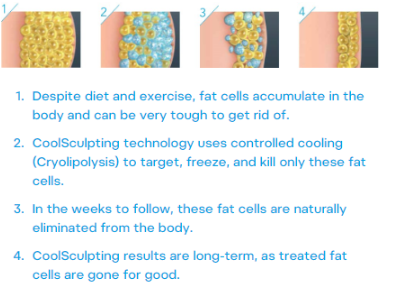 Fat reduction only occurs in the treatment area and untreated areas will have no change in fat cell distribution. So make sure you have a consult with one of our trained CoolSculpting® therapists to discuss the areas you'd like to target.
Your next question probably is... where on my body can I get CoolSculpting®?
The CoolSculpting® procedure can treat visible fat in the submental area (under the chin), thigh, abdomen and flanks (aka love handles), along with bra fat, back fat, underneath the buttocks (also known as the banana roll) and upper arm.
Got it, is there any downtime?
The best thing about this body sculpting treatment is that most clients can return to their normal activities immediately after the session.
When can I see results?
We have to put a disclaimer here that individual results will vary based on your lifestyle, genetics, treatment upkeep and the sheer fact that everyone is different. However, you can expect to see results between 2 and 6 months depending on the area being treated.
What the celebs are saying...
With over 7 million treatments performed worldwide, CoolSculpting is definitely becoming a household name amongst the beauty and aesthetic industries. With superfans like Khloe Kardashian, Kris Jenner and Molly Sims, it's time to discover the treatment with a free consultation at our clinics.
Sims opted for CoolSculpting® after giving birth to her second child in 2016. She also became a spokesperson for the brand after having two treatments on her stomach.
"As a mama, that's what we need. I did it… and it totally worked!" the model told Vanity Fair.
Visit your nearest Laser Clinics Australia for a complimentary consultation or purchase your treatments online now.