Derma rolling (aka Skin Needling) is the talk of the town of late, with celebs and skin enthusiasts touting an endless list of wondrous skin benefits, which leaves you wondering if you should be using this marvelous little device on your skin?
So let's start at the beginning, firstly, what is derma rolling?
Derma rolling falls into 2 categories; professional treatments such as Skin Needling and home care devices.
Professional skin needling in-clinic:
Think of acupuncture, as the concept is very similar to Skin Needling. The 60-minute treatment involves tiny needles that create microscopic channels into the skin causing a controlled wound which forces the body to promote healing in the affected area.
Before we go on, if you're freaking out about the idea of needles in your face – hold up! Firstly, they are teeny, tiny little things. In some cases, we'll use a topical numbing cream during treatment so you feel nada and there's no downtime.
Moving on. So, what does it actually do, you ask? The wound healing response that's part of the skin needling process is what stimulates new collagen and elastin formation which in turn assists with plumping out fine lines, wrinkles, and acne scarring.
But wait. There's more. Skin needling also increases cell renewal which assists in the normalising of dysfunctioning pigment cells for a clearer, more even skin tone and texture.
The holy grail of skin treatments, skin needling can be used to treat a range of skin concerns including acne scarring, stretch marks, fine lines, pigmentation, enlarged pores, blackheads and general scarring.
At-home derma rolling devices:
A derma roller that is designed for homecare use always has quite short needles (eg. 0.25mm), this means they do not cause excessive trauma to the skin (nor are they painful to use). The device we love is skin-inject™ DNC Derma Roller 0.25mm as it utilises 600 surgical grade stainless steel needles. As you roll the device over your skin it creates tiny little puncture channels in the very outer layer of skin. This allows for increased absorption of your skincare products (especially correcting serums), helping to enhance the results of your homecare regime. While 600 needles may sound scary, you'll be relieved to know that with the needles being the only 0.25mm they do not reach the pain receptors in the skin (hint if it's hurting you're pressing too hard!). The whole benefit of rolling at home is to maximise the diffusion of essential nutrients to encourage the skins natural healing and regenerative response. If you are wanting to address scar tissue (ie acne scars or stretch marks) this is best done with in-clinic professional treatments (rather than an at-home device).
Which derma rolling device is right for me?
One very important thing to understand, not all derma rolling devices are created equal! It can be overwhelming to decide on the right device for you, but be sure to do your research and use a high quality and safe device. Our fave roller, the skin-inject™ DNC Derma Roller is a medically engineered device that utilises gamma-sterilised, surgical-grade stainless steel microneedles, has patented Disk Needle Care technology and wait for it, it even has an advanced silicone suspension system! While this may sound strange, you're going to love it when you take it home because it's this silicone suspension system that ensures you have the most comfortable and beneficial rolling experience as your device contours to your face.
This brings us to your next question – do you need one?
If you're pretty savvy and have been using correcting serums in your homecare regime, then you my friend are ready to step it up a notch. By introducing the roller to your skincare regime just 2 – 3 times per week, you can increase product absorption by up to 200%, it's like making your skincare work smarter, not harder.
Key benefits of the home derma roller include:
Product infusion (up to 200%)
Exfoliation
Targeting premature ageing (infusing Retinol or Rejuvenate 15 Serum)
Targeting sun damage or pigmentation (infusing Even Blend Serum)
Targeting acne, blackheads or enlarged pores (note- not for very inflamed, pustular or broken skin)
Assists microcirculation (creating a more vibrant, luminous skin tone)
Helps achieve a softer, more hydrated complexion
Promotes the appearance of a firmer skin tone
This nifty little device certainly is a high-achieving beauty all-rounder!
Now the important part – how to use
We recommend starting by rolling once per week in the evening, building up to 2-3 times per week. It's important you reserve your rolling for evening only, as it's normal to feel a bit warm and tingly afterward and your skin will have a nice rosy flushed appearance.
The technique itself is really simple; roll in a back and forth motion over a small section of skin in a horizontal fashion then you repeat this process in a vertical pattern. Check out the image below.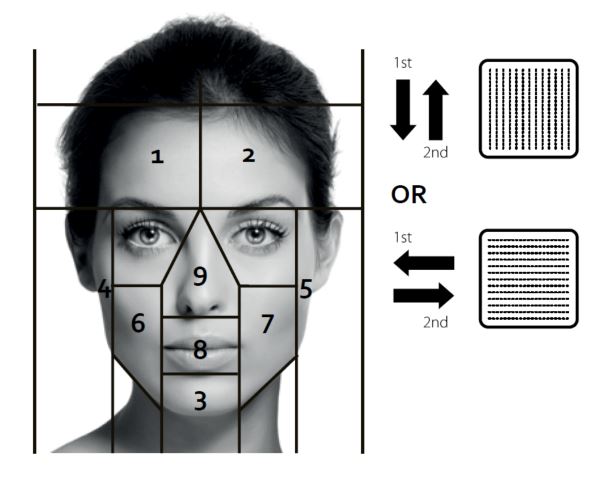 Follow these easy steps when rolling in the evening:
Remember you can pick up 3 Skinstitut™ products for just $99 or 5 for $149 at all 110+ Laser Clinics Australia locations.
So why should you do both professional in-clinic skin needling treatments and at-home derma rolling?
When receiving in-clinic treatments, your homecare regime is also an important consideration. Believe it or not, a great portion of your end result is dependent on what you do at home with your skincare day in and day out. To put it into perspective, we don't go to the dentist once every 6 months and fail to brush our teeth in the meantime.
Your at-home derma roller coupled with in-clinic needling treatments can help to produce a better result. The best treatments to use the home roller in conjunction with include skin needling (of course), chemical peels and also injectables. Chat with your therapist or cosmetic nurse to determine the best way to use after your clinical treatments.
So why not step things up and get the most out of your homecare regime by introducing a derma roller to the mix. Happy rolling.
Purchase your at home skin-inject™ DNC Derma Roller 0.25mm at Laser Clinics Australiafor $79.95. In-clinic skin needling prices are here.