Men are starting to get more comfortable with having skin treatments to enhance their looks or address a skin concern. With social media and rampant image sharing, heavily influenced by male celebrities and influencers, men are more open to sharing their experiences on their treatments, breaking down the misconception that only women can get cosmetic treatments.
One of the most popular treatments among men is cosmetic injectables. Laser Clinics Australia shares the reasons for men getting cosmetic injectables:
1. To reduce wrinkles and forehead lines.
Wrinkles are a natural part of the skin ageing process for both men and women. To address these concerns, men consider getting the same natural-looking results they see on their partners or female and male friends that have undergone Cosmetic Injectables.
In this Before and After photo, you can see how effective an Anti-Wrinkle Injection treatment reduced our patient's forehead lines.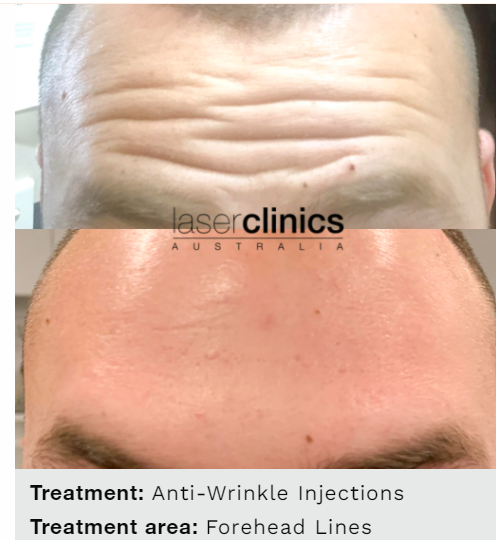 Laser Clinic Australia's Anti-Wrinkle Injectables prevent and reduce wrinkles by stopping the signal between the nerve and muscle. This treatment temporarily relaxes facial muscles, softening and reducing the severity of visible forehead lines and wrinkles.
2. To achieve fresher and maintain a youthful appearance.
While the primary purpose of Anti-Wrinkle Injections is to improve temporarily visible lines, this cosmetic injectable can also be used to prevent the formation of future lines. It helps soften the expressions of lines on your face.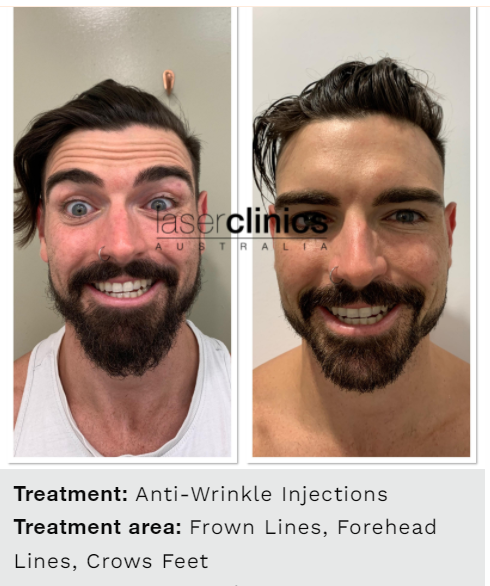 This photo presents how Anti-Wrinkle Injections helped our patient achieve a fresher and more youthful look by reducing the visibility of frown lines, forehead wrinkles and lines around the eye area or crows feet.
3. To enhance the structure of the jawline.
With age, the skin loses its volume causing the body to produce collagen and elastin. This results in losing volume in some parts of the face, including the jaw. Men who want to refine the shape of their jawline can book a Dermal Filler treatment to add volume and structure while providing a youthful and natural appearance.

Laser Clinic Australia's Dermal Filler is made from natural sugar that can restore fullness and volume in various facial areas. Our Jaw Re-Shaping is a non-surgical and affordable option to re-volumise the jawline structure, giving our patients a natural-looking and more refined jaw.
4. To treat excessive sweating.
Some people, including men, suffer from excessive perspiration called Hyperhidrosis, which can cause some body image issues. Fortunately, dermal fillers can help treat this problem. Laser Clinic Australia's Hyperhidrosis (Underarm Sweating) treatment safely reduces excessive sweating for up to six months or longer, depending on how fast your body metabolises the filler.
Whether to enhance their facial features or address specific skin concerns, men can enjoy the benefits of Cosmetic Injectables without being judged for their choices. At Laser Clinics Australia, we tailor a treatment plan based on your skin concerns and conditions, using market-leading Cosmetic Injectable products, producing effective and natural-looking results. Book an appointment today.